About this item
Compact headlamp with multiple beams and red light for outdoor activities. 350 lumens. A single switch for quick and easy selection of light beams, level or colour. Removable and washable.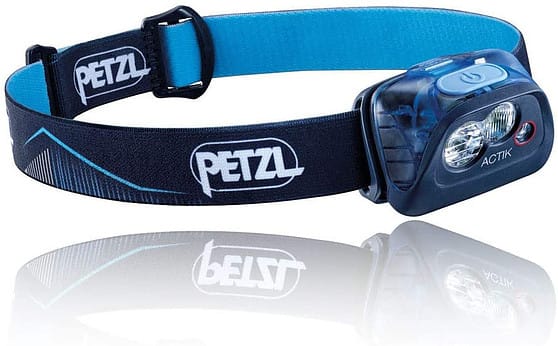 Product description
Petzl Actik Headlamp the ACTIK headlamp offers 350 lumen brightness. Multi-beam, it is ideal for dynamic outdoor activities like mountaineering, running, hiking and backpacking. Highly powerful and versatile, the Petzl Actik headlamp is your ideal accessory for a plethora of outdoor activities. You can perform comfortably and safely with the headlamp, knowing it will improve visibility and awareness, especially for your contemporaries. The Actik headlamp projects brightness of 350 lumens, with two beam patterns (wide and mixed) as well as several lighting modes to meet the need for high-performance lighting in the aforementioned outdoor activities. Furthermore, the lighting is beneficial for measuring proximity to objects, other people or potential hazards as well as enhancing your vision over a larger distance and to work with rapid movements. Red lighting preserves night vision and prevents other members of your group being blinded or startled. The Actik features a single button which allows for quick and easy lighting selection, so you won't have to fiddle around to find the right setting plus, a lock button prevents you from accidentally turning it on during transit or storage. To ensure you're always charged up the Actik comes with 3 standard batteries plus, its compatible with the CORE rechargeable battery, thanks to the HYBRID CONCEPT design. A reflective headband is featured on the headlamp to ensure you remain seen, even when the light is shone on it. The headband is also adjustable to ensures a perfect fit and can be easily detached so you can wash it when not in use. Lastly, the Petzl Actik Headlamp is compatible with mounting accessories that allow the lamp to be attached to any kind of helmet, or to a bicycle.
Reviews
5.0 out of 5 stars-On the market for a new headtorch and I've always been a fan of Petzl units for over a decade. My tikka had packed in so bought what appears to be the new version the Actik. The brightness and span of the beam are much improved and battery life is good. It's able to maintain beam strength for quite a few hours.
The Actik range can take a proprietary rechargeable battery however I prefer to use standard AAA batteries as they are used in multiple devices I use while camping.
4.0 out of 5 stars-Beware! I was bought this model as a present, and it's very good. As is normal these days it's recharged using a phone charger.
Having bought this one, at an apparently good price, I find it arrives with just an ordinary battery. So NOT the bargain it seemed.
5.0 out of 5 stars-I've used pretzel head torches for years. Never been let down. Only replaced the last one because the battery leaked. This one is really good. Very far beam and great low power mode.