Hiking Boots
Waterproof jacket and hiking boots. If you like trail hiking and the outdoors, there is no piece of hiking equipment more essential than a good pair of hiking boots. A properly fitting pair of waterproof hiking boots can make all the difference when you are out on the trail.
On a lot of hikes, your carrying a lot of gear, and not all shoes are built to hold all that weight your carrying. Without the proper foot wear and support, your muscles will get tired more quickly and depending on the type of hiking your going to do, not having proper hiking boots can be dangerous and lead to injury.
Trainers really aren't designed for trail hiking. Hiking boots are made for stability, support and countless hours of abuse in difficult terrain.
New hiking boots should never be used on a long hike. After buying a pair of hiking boots, it's a good idea to wear them in first to avoid any blisters or discomfort. Make sure you break-in the boots before your hike.
Waterproof Jacket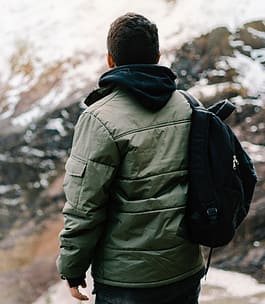 Gore-tex is an amazing breathable, waterproof material found in high performance clothes such as walking and hiking boots and high altitude coats. It's not the only material that's used in this way, but it's certainly the best known. Unlike ordinary synthetic materials like nylon.
Waterproof breathable materials, stop rain from getting in but let perspiration out. So they keep you very dry on the inside.
A waterproof jacket is essential on the coat hook of any walker. Not only will it protect you from pouring rain, but it will also offer some resistance from the wind, and enough warmth on cold days
Gore-Tex rain jackets are easily one of the more eye-catching waterproof jackets, these jackets feature Gore-Tex fabric, the most breathable material in the waterproof brand's.
You have probably noticed that the performance of these jackets including waterproof trousers decrease with time, and don't work as well as they did when you first bought them.
Re-waterproofing your boots and jacket can prolong their lifespan. Re-waterproofing is also fairly inexpensive. All you need is a bottle of waterproof spray which you can purchase online, I would recommend (fabsil). This can also be used on your tent as well, as your tent will need re-proofing after about one or two years.
Conclusion
Like any specialty sports equipment, boots and jackets have a limited lifespan of functionality, so many people want to know how long hiking boots and jackets last. Hiking boots and jackets can last anywhere from a few months to decades, all depending on the quality of the boots and the jacket, and how much you use them. There are many factors that will affect how long your hiking boots and jacket will last. Generally the more expensive the boots and jacket, the longer they will last. So don't get cheap when it comes to hiking equipment.